Things are bound to happen once in a while if you're out on the roads long enough. Sometimes you don't even have to be on the road for a little fender bender to occur. It's possible to come out from the grocery store around Worcester, Auburn, and Shrewsbury, Massachusetts, to find a fresh dent in your model. If that's the case, you can turn to our dent removal services here at Harr Collision Center.
No matter the model, make, or model year, we'll be able to return your vehicle to its previous, pre-dent form!
Dent Removal Is a Quick Process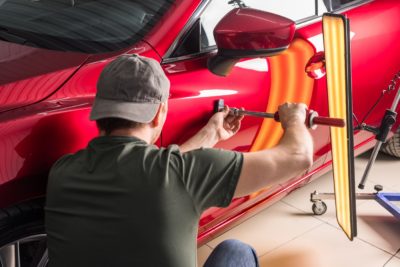 Not all dents are the same, of course. The size and location of the dent means that certain dents will take longer to remove or smooth out than others. Still, the overall process is a pretty quick one.
First, our certified technicians have been working in this area for a long time. Our auto body shop has seen dents of all sizes, on all types of vehicles. So they'll begin by identifying what it is your model requires.
Secondly, our technicians will turn to our amazing dent-removal tools that can pop out or smooth any surface. With the right amount of precision and care, they can have your model looking as good as new again.
Finally, we'll make sure your vehicle is functioning properly after fixing the dent. Certain exterior features have practical purposes such as improving high-speed stability or enhancing aerodynamics. We'll do more than just correct the styling repairs, we'll also ensure your model is running the way it's supposed to.
Scratch Removal, Paint Jobs, and Other Exterior Services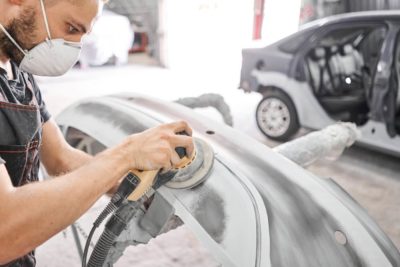 If you have a noticeable dent in your model for whatever reason, it's also possible your car has scratches or areas where the paint has been chipped away. Fender benders can lead to all kinds of exterior needs. Thankfully, our body shop is prepared to deliver the exacting care your model requires, whatever that may be.
If we've fixed the dent, for example, and find the paint job requires a touch-up, we'll get right on it. We can match the paint to the exact shade that's on your vehicle no matter the make, model, or trim level.
It's also possible for us to address any scratches you might have on your vehicle. Our team has the know-how and the tools to quickly address any type of flaw or slight that your car might have experienced.
The goal at our body shop is always the same one: to return your vehicle to its peak form.
Don't Wait, Book Your Dent Removal Today
You don't have to drive around Worcester, Auburn, and Shrewsbury, MA, with a dent in your vehicle. A quick trip to our auto body shop will have your model looking fresh once again. The dent removal process is far quicker than most realize.
So if you've noticed a dent on your model and want to have it corrected, just call us or use our Harr Collision Center website scheduling tool!